Life Insurance
What would your family do if one wage earner were to die unexpectedly? How would you pay your mortgage or car loan payment? Could you afford to save for your children's post-secondary education on one salary? Protect your family's finances with life insurance.
Contact Us to apply.

Critical Illness
No one wants to face being told they have a ser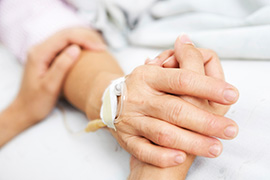 ious illness. Living with a critical illness can be a challenge physically, emotionally, and financially. Few people have thought about how that diagnosis would affect the family's financial situation. There may be increased drug costs, home care services, medical travel to get the best treatment options, modifications to a home or vehicle in the case of paralysis. All of this, as well as regular household bills, can add up quickly. A Critical Illness insurance policy can give you peace of mind so if you are ever diagnosed with a serious illness, you can focus on what is most important – getting better.
Contact Us for more information.
Disability
Most people understand the need for life insurance, but the reality is that disability impacts the lives of working people far more often than premature death. One in 3 people will be disabled for 90 days or more at least once before they reach age 65. Personal Disability insurance can be tailored to fit your needs.
Long Term Care
Plans for retirement may include travel, spending more time with family and friends, maybe a cottage at the lake. They don't usually include plans for Long Term Care, but if you or your spouse develop serious health concerns and have to seek nursing care, personal care, or homemaking services, these programs can make a severe dent in your finances. Long Term Care insurance can provide coverage for care whether you stay in your own home or require a care facility.
Combination Insurance
This new type of insurance offers protection for life, disability and critical illness in one package. In this 3-in-1 design, you have only one application, one amount to pay and one plan to manage. This is a great product for mortgage protection.
Travel Insurance
Traveling outside of Canada? Get a quote.
Individual Health and Dental Insurance
Are you tired of paying out of pocket for the high cost of prescription drugs? Do you require an individual health and dental plan? Get a quote and apply for coverage here.